We hadn't heard of R&D Tax Credits until we were invited to a meeting with a client to discuss their R&D with Vantage. After the meeting, we discussed whether we had qualifying activity and arranged a meeting of our own. It turned out we had a lot of qualifying activity and Vantage were able to translate that into cash through the R&D Tax Credits scheme.

Kevin Stephenson

MD Rev2Race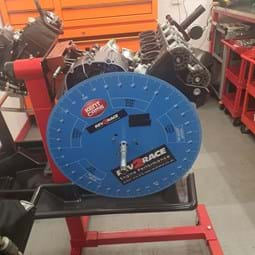 About Rev2Race
Rev2Race is a world class motorcycle specialist that builds motorbikes and race engines for race teams. Customers always expect the very best and Rev2Race is willing to go above and beyond, but the development work comes at a cost, that customers are generally not keen to pay for. 
Motorsport Innovation
"We hadn't heard of R&D Tax Credits until we were invited to a meeting with a motorsport client to discuss their R&D with Vantage. After the meeting, we asked whether we had qualifying activity and arranged a meeting of our own. It turned out we had a lot of qualifying activity and Vantage were able to translate that into cash through the R&D Tax Credits scheme" says Kevin Stephenson, Managing Director of Rev2Race.
Why Vantage?
"It's easy...John has excellent insight and was able to ask us all the right questions. We provided our financial data and spoke to John for a couple of hours. The result was £15K straight into our account, for the first two claims. That's the best hourly rate I've ever had! Working with John is so easy and it saves me a fortune."
The reward
"R&D Tax Credits have helped us financially. We re-investing the money into the next year's development, which helps the company to grow. They've also changed the way we work. We're more positive about trying new things and giving things a go, because we know that realistically, it won't cost us anything."